Any mention of Russia might bring up images of harsh winters, men who greet each other with 'comrade' on the streets, traffic, and bears. It's time to retire those stereotypes because most of them are not even true at all. The world's largest country is fascinating at every turn with gorgeous beaches that will make for a great vacation destination.
Yantarny Beach
(image: Sputnik News)
Yantarny is an up and coming beach town with one of the widest beaches on the Baltic Sea coast. It is located in Kaliningrad, a region that used to be part of the German Empire in 1871. This explains the thick rubble walls and semi-circular arches reminiscent of the Romanesque era. As much as you'll enjoy the architecture, the white sand beaches will quickly pull you in. It received the prestigious Blue Flag certification which means that it complies with the highest of environmental and safety standards.
Kurshskaya Kosa National Park
(image: Wikipedia)
Also known as the Curonian Spit, Kurshskaya Kosa National Park is a UNESCO World Heritage Site shared by Russia and Lithuania. The coastline is wide, pristine, and extremely relaxing. If you get tired of the water, you can visit the Dancing Forest with giant trees that bend and twist in strange ways. It's also just north of Kaliningrad.
Khalaktyrsky Beach
(video: 56th Parallel)
In Kamchatka, you might not find dreamy white sand, but you will find the best waves in Khalaktyrsky Beach. It is a black sand beach known for being a great surfing spot. Russia Beyond pointed out how it remains popular even during winter when professional surfers flock to brave the cold waters. It's an unbelievable experience with views of frozen volcanoes in the background. It's easy to see why surfers head here to seek waves come hell or high water.
Kola Peninsula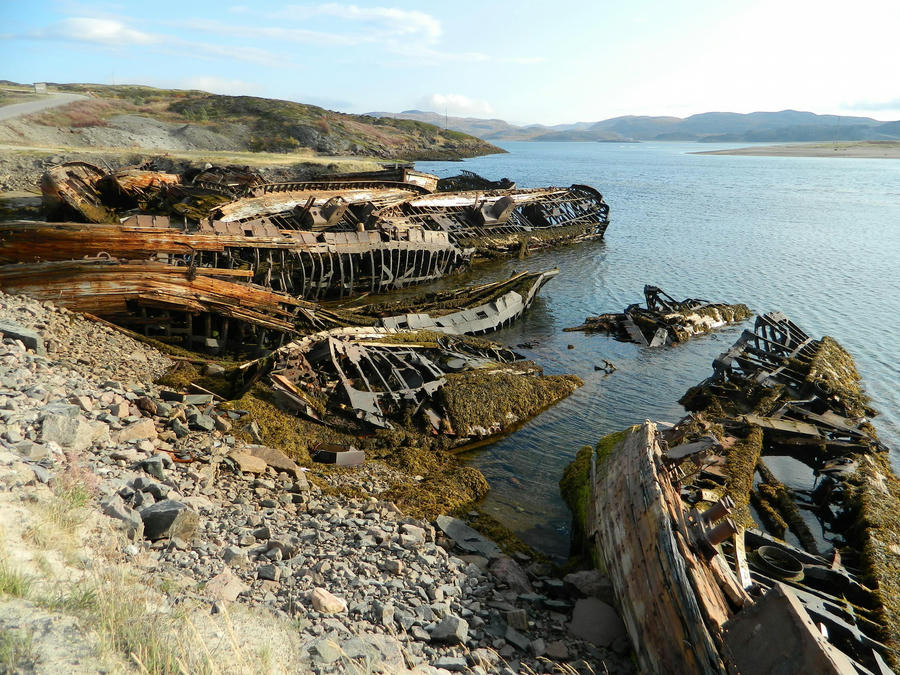 (image: Nomadic Days)
In the far northwest of Russia, you'll find a cape, which lies completely inside the Arctic circle. The scenery in Kola Peninsula is stunning especially as the summer months creep in and the snow gradually melts off the mountains. The wooden houses by the beach are uninhabited and you can see old rusty ships docked near the water. Visitors of Kola don't just go to the beach—in fact, hardly anyone swims at all. What Kola Peninsula is known for is the amethyst stones scattered along the coast. It is also a spa town perfect for a long peaceful weekend.
The Black Sea
(image: The Durango Herald)
Sochi is a resort town famous for hosting the 2014 Winter Olympics. It's also known for sharing the Black Sea coast. There are many nearby attractions including the Sochi Park which the Durango Herald notes as the Russian Disneyland. A million people visit the theme park annually and this has even increased due to the impact of the recent World Cup. When you get to Sochi, or any other town near the Black Sea, take a dip as the water is pleasant especially in the summer.
If any of these beaches inspired you to visit, here are some important things you should know: Round trip tickets from the US typically range from $1,700-$2,000 depending on the season. Ladbrokes in their feature on traveling to Russia stated that a single entry visa up to 30 days costs $48 and a double entry visa up to 30 days costs $63. Accommodation ranges from $50 to $150 but you can stay in budget hostels for as low as $10 a night. Long distance trips to beach towns might cost you $30 per way. Expect to spend $40 for food and $2-$4 for urban transport everyday.
Don't let old stereotypes discourage you from exploring Russia. It's an amazing country with plenty of experiences to offer!
If you liked this review, you can also check out the top beach vacation spots worldwide listed here on Hotels Etc.